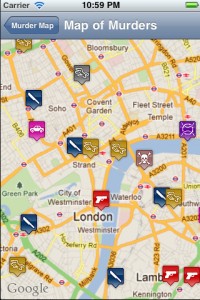 Murder Map brings you details and backstories of over 540 actual murder cases that have occurred in London, UK over the years. As well as famous cases like The Assassination of Prime Minister Spencer Perceval, Jack the Ripper or Dr. Crippen, as well as day to day murders.
Read about the murders and their victims.
See which murders haven't been solved (maybe you can help).
You can also see what murders have taken place near you (in London, UK), in your borough.
Once you have read a case, it will be ticked, so you know that you have already read it.
New cases will be added periodically.
Whether you live in London or are just visiting, the cases make for interesting reading.