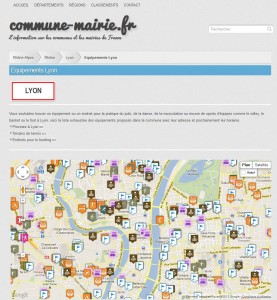 Commune-Mairie.fr est un site fournissant de l'information de qualité sur les villes et communes de France. La nature de cette information peut être administrative (téléphone, email, adresse ou site internet le cas échéant), démographique (nombre d'habitants, évolution de la population, répartition par sexe) ou encore cartographique avec des plans et des vues satellites des villes françaises. Vous pouvez aussi noter les différentes villes et y laisser vos impressions!
License
Icons are availabe unter the
Creative Commons Attribution-Share Alike 3.0 Unported
license (CC BY SA 3.0) which lets you remix, tweak, and build upon our work even for commercial reasons, as long as you credit the project and license your new creations under the identical terms.
Please credit as follows:
Maps Icons Collection https://mapicons.mapsmarker.com
Logo:


Please note: hotlinking (=loading icons directly from this site) is not allowed and will result in the icons being replaced with the placeholder image on the left!
Please download and host the icons on your own server,
Dropbox
or
Google Drive
.