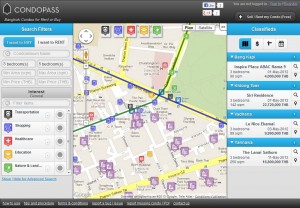 If you search to buy or rent a condo in Bangkok, the first thing you will need to do is to indicate it from the "Search Filters" area: a button allows you to filter condos to buy or to rent easily. Then you can also indicate the name of the condominium you are looking for and the map will update instantly to filter the results as you type. Note that this filter will also show names that "sounds" similar so you may see more condos than what you were expected sometimes. Additional filters allow you to search for condominiums with a minimum and maximum number of bedrooms, price and size (in square meters).
Exclusively on CondoPass you also have the opportunity to search a condo near places of interest (transportation, shopping, hospitals, universities, parks…). To do so you simply need to click on the category you are interested to get your condo near. For example if you are looking for a condo near BTS, simply click on the "Transportation" category and then on the button next to BTS to select all BTS stations and find your condo near one of those. You can also select near MRT if you do wish to have it either near a BTS station or a MRT station. If you also want your condo to be near a shopping mall, you can do the same by selecting some shopping malls, your condo will then be found near transportation selected AND shopping! To help you finding your favorite place you can also filter by typing the name of the place you are looking for then drill down inside categories.
License
Icons are availabe unter the
Creative Commons Attribution-Share Alike 3.0 Unported
license (CC BY SA 3.0) which lets you remix, tweak, and build upon our work even for commercial reasons, as long as you credit the project and license your new creations under the identical terms.
Please credit as follows:
Maps Icons Collection https://mapicons.mapsmarker.com
Logo:


Please note: hotlinking (=loading icons directly from this site) is not allowed and will result in the icons being replaced with the placeholder image on the left!
Please download and host the icons on your own server,
Dropbox
or
Google Drive
.