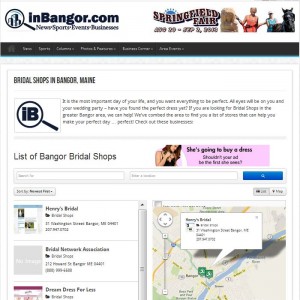 inBangor.com is a site that highlights the People, Places, Businesses, Events, and Things to do in the greater Bangor, Maine area.  Their goal is to explore the best that the Bangor community has to offer, and then share it with other like-minded folks.  They cover local News, Sports and Events, and also profile local businesses.  They also feature a directory of Bangor businesses that contains over 6000 area companies broken down into more than 300 categories.  The businesses are displayed on interactive Google maps, and utilize many of the Map Icons Collection markers.
License
Icons are availabe unter the
Creative Commons Attribution-Share Alike 3.0 Unported
license (CC BY SA 3.0) which lets you remix, tweak, and build upon our work even for commercial reasons, as long as you credit the project and license your new creations under the identical terms.
Please credit as follows:
Maps Icons Collection https://mapicons.mapsmarker.com
Logo:


Please note: hotlinking (=loading icons directly from this site) is not allowed and will result in the icons being replaced with the placeholder image on the left!
Please download and host the icons on your own server,
Dropbox
or
Google Drive
.