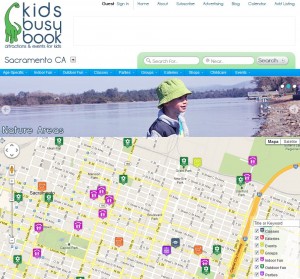 Kids Busy Book provides a comprehensive directory of attractions and events for kids throughout the Sacramento valley and California.
You can find all kinds of local gems, whether it is a playful park within walking distance, a joyful bounce house in town, or a gorgeous bit of wilderness that's worth the drive. You can also track down the best place for your child's next birthday party.
If you own a business that caters to children and it is not yet listed on Kids Busy Book, you can add it for free.
Visit KidsBusyBook.com
License
Icons are availabe unter the
Creative Commons Attribution-Share Alike 3.0 Unported
license (CC BY SA 3.0) which lets you remix, tweak, and build upon our work even for commercial reasons, as long as you credit the project and license your new creations under the identical terms.
Please credit as follows:
Maps Icons Collection https://mapicons.mapsmarker.com
Logo:


Please note: hotlinking (=loading icons directly from this site) is not allowed and will result in the icons being replaced with the placeholder image on the left!
Please download and host the icons on your own server,
Dropbox
or
Google Drive
.