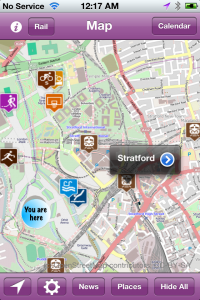 Offline Map of London with GPS location tracker. No internet or wifi required to browse maps or to track your location. All the Games Venues marked on the map.
Features
Maps are Completely Offline
Includes location tracker
Search Places using Sport name, Venue or Railway Station name to get all the games venues nearby
Covers a very large area in London, including Wembley, Greenwich and Hampton.
All games venues in London and Railway stations marked
Includes details of Venues with directions on how to get there
Includes tube map of London
Driving mode setting, for touch-less operation during driving.
Facebook and Twitter integration(requires internet)
Add schedule for your favorite sport to your phone's Calendar
Choose what sport to add
Calendar entry added for your local time zone
Option to add with or without a reminder so you will not miss any action on live TV
License
Icons are availabe unter the
Creative Commons Attribution-Share Alike 3.0 Unported
license (CC BY SA 3.0) which lets you remix, tweak, and build upon our work even for commercial reasons, as long as you credit the project and license your new creations under the identical terms.
Please credit as follows:
Maps Icons Collection https://mapicons.mapsmarker.com
Logo:


Please note: hotlinking (=loading icons directly from this site) is not allowed and will result in the icons being replaced with the placeholder image on the left!
Please download and host the icons on your own server,
Dropbox
or
Google Drive
.