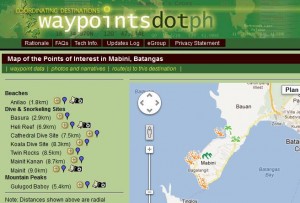 Waypoints.ph logs travels and adventures that trekkers have done around the Philippines. It details treks with photos, essays, guides, tips, and even navigational aids like GPS data, waypoints, routes and many more. Please see the Gallery of Featured Destinations and the Waypoints List.
Two things are featured :
Philippine trekking
GPS usage.
It aims to fuse these two aspects together and make this website the GPS traveller's guide to the Philippines. Basically, it is your "what's-a-nice-place-and-how-to-get-there" website.
License
Icons are availabe unter the
Creative Commons Attribution-Share Alike 3.0 Unported
license (CC BY SA 3.0) which lets you remix, tweak, and build upon our work even for commercial reasons, as long as you credit the project and license your new creations under the identical terms.
Please credit as follows:
Maps Icons Collection https://mapicons.mapsmarker.com
Logo:


Please note: hotlinking (=loading icons directly from this site) is not allowed and will result in the icons being replaced with the placeholder image on the left!
Please download and host the icons on your own server,
Dropbox
or
Google Drive
.