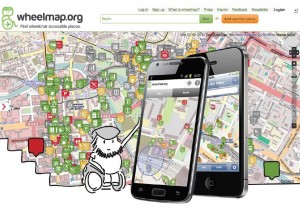 Wheelmap is an online map for wheelchair accessible places. Like Wikipedia, the data is publically owned – anyone can contribute by tagging public places according to their accessibility. Mobility-impaired persons, such as users of wheelchairs or walking frames, use the platform to share relevant location-based information. Can one reach a specific café? Does a popular restaurant have an accessible toilet? Is a municipal office barrier-free? The OpenStreetMap-based approach helps mobility-impaired users, as well as anyone with limited mobility, to plan their day more efficiently. Thousands of e-volunteers supporting the cause add to the database via the web or mobile phones. Wheelmap has more than 250,000 points of interests in eighteen languages. Public awareness raised by Wheelmap can encourage owners of public buildings to improve their location's accessibility.
Visit www.wheelmap.org
License
Icons are availabe unter the
Creative Commons Attribution-Share Alike 3.0 Unported
license (CC BY SA 3.0) which lets you remix, tweak, and build upon our work even for commercial reasons, as long as you credit the project and license your new creations under the identical terms.
Please credit as follows:
Maps Icons Collection https://mapicons.mapsmarker.com
Logo:


Please note: hotlinking (=loading icons directly from this site) is not allowed and will result in the icons being replaced with the placeholder image on the left!
Please download and host the icons on your own server,
Dropbox
or
Google Drive
.