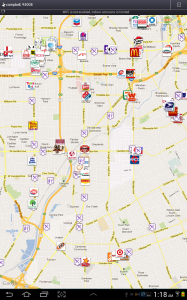 Find stuff near you fast – no searches. Works without GPS. Ad Free.
YouAreHere and no one else is here like you. YouAreHere is easy to use local discovery app and more. It finds stuff near you on the map. No searches. Pan the map in any direction for automatic and quick updates. You're not bound to your location.
Plus we let you add great deals that you find and share those on your social network. Location based deals for you powered by you!
Features List:
Simple idiot-proof interface
Best battery saving in location based class
Largest US retailer interactive directory with large colorful logos and tags
Powerful and smart filters allow you customize what is displayed
Scan beyond your location by just panning on the map; not limited to your current location
Deal tagging and sharing on social networks, SMS, Email etc.
Two clicks for direction, two click for quick dial and one click for detailed search.
Download YouAreHere! for Android
A big thank you to Ajay for his donation.